Tweet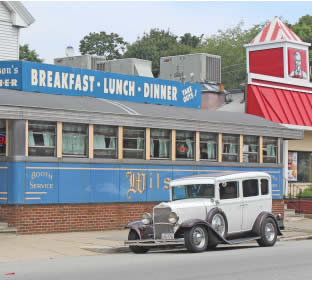 http://www.cruizn.us/index.html West on U.S. Route 20, the Yellowstone Trail, from Boston, MA to Newport, OR, then South on the Pacific Coast Highway Route 101 to Long Beach, CA, then East on U.S. Route 6, the Grand Army of the Republic Highway, to Provincetown, MA in time to join with the 2nd Annual U.S. Route 6 Provincetown Cruise Weekend in October. Watch for more information about CRUIZN the U.S.A. – Route 6 Happenings.
Tweet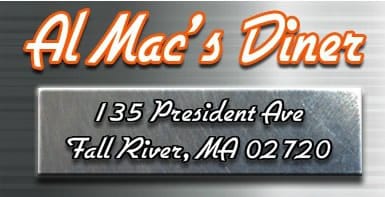 Cruise at Al Mac's Diner is every Thursday from 
5 PM til 9 PM (closing) - 
May through September
Tweet
One of the many reasons that Cape Cod's Historic U.S. 6 (6A) is know as a Maritime Highway.  
Since its inception in 1977, the biennial Marion Bermuda Race has been a premier 645 mile ocean race and sailing event which appeals to a broad range of non-professional cruising and racing enthusiasts, sailing 32-80 foot Cruising and Racer/Cruising monoh
Tweet
A SPECIAL EVENT!
Cruise to Provincetown Details
First Annual Tour Weekend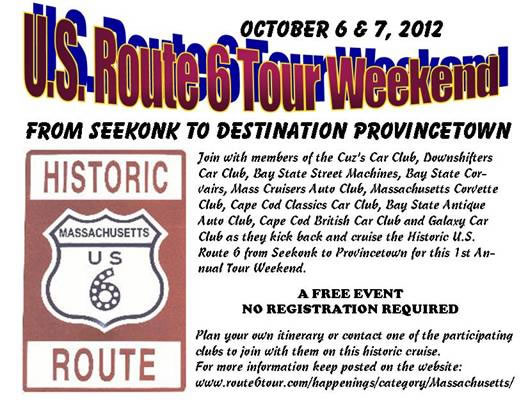 Massachusetts-Facebook Page
Tweet
These are the weekly Rte. 6 cruise nights so far for 2011. – As of April, 2011 Seekonk: no 2011 confirmation start date Sundays at the Sam's Club/Wal-Mart (Rte. 6 – Exit 1 off I-195) 5 PM to dusk Fall River Antique Auto Club correiar@netzero.net Somerset: starts May 3 Tuesdays at the Juke Box Diner on Rte. 6, 155 Grand Army Highway 5 – 9 PM John Remedis (Downshifters) downshifters@comcast.net no 2011 confirmation start date Thursdays at the Progressive Club, 139 Seaver Ave (off Rte. 6) 5:30 -8:30 PM Swansea: 2011 dates for this Cardi's location not yet confirmed Mondays at Cardi's Furniture, Rte. 136 (I-195 Exit 2) already running Wednesdays at Simcock Farm Ice Cream, 361 Marvel St. 6:30 – 9 PM http://www.simcockfarm.com/ New Bedford: already running Sundays at G & S Pizza (Milk Bottle – Rte. 18; 2840 Acushnet Ave.) 4 – 8 PM starts May 7* Saturdays at the Shawmut Diner, 943 Shawmut Ave. 5 – 9PM *Every other Saturday then every Saturday following the Mattapoisett Wharf Cruise Bob Bramwell (Cuz's Car Club) bram78@charter.net Dartmouth: starts May 13 Fridays Cold Stone Creamery, 85 Faunce Corner Rd. 5 PM (alternates Fridays with Mattapoisett Wharf Cruise) Bob Bramwell (Cuz's Car Club) bram78@charter.net Mattapoisett: starts May 6 Fridays at the Mattapoisett Wharf off Rte. 6; 5 PM (alternates Fridays with the Dartmouth Cold Stone Creamery Cruise) John Remedis (Downshifters) downshifters@comcast.net Bourne: starts May 3 Tuesdays at the Upper Cape Regional Tech H.S. Sandwich Rd. (Rte. 6A) 5 PM Sham Rods Car Club http://www.shamrods.com/ South Dennis: starts May 23 Saturdays at the Patriot Square Mall on Rte. 134 (Rte. 6 Exit 9A) 5 PM Cape Cod Classics Car Club http://www.capecodclassics.org/ South Yarmouth: starts May 11 2nd & 4th Wednesdays at Lil' Caboose Ice Cream on Rte. 26 (Rte. 6 Exit 8) 5 PM to dusk Cape Cod Classics Car Club http://www.capecodclassics.org/