Tweet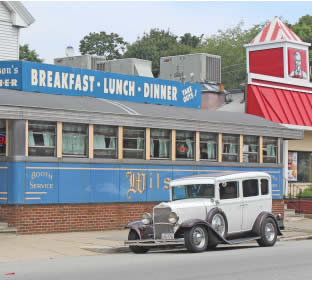 http://www.cruizn.us/index.html West on U.S. Route 20, the Yellowstone Trail, from Boston, MA to Newport, OR, then South on the Pacific Coast Highway Route 101 to Long Beach, CA, then East on U.S. Route 6, the Grand Army of the Republic Highway, to Provincetown, MA in time to join with the 2nd Annual U.S. Route 6 Provincetown Cruise Weekend in October. Watch for more information about CRUIZN the U.S.A. – Route 6 Happenings.
Tweet
River To River Classic Car Road Trip 2012 No Interstates, No Chain Restaurants
PDF flyer with all the details. Sept. 7, 8 and 9 2012
Tweet

The Founders Day committee has met and is making plans for this year's event. The theme will be "Hot Time in The Old Town Tonight" and the grand marshals are Dale & Jane Kreimeyer. We would love to see a lot of parade entries this year! Once again there will be the Eager Beaver run, Cornhole Tournament, Carnival, Bingo, Car Show, Parade, etc. The bands this year are Friday night from 8 – 12, "Wilton's own XL's" and Saturday from 9 – 1 "Crazy Delicious from Cedar Rapids!
Tweet
The White Pole Road offers tourists and travelers a rural Iowa diversion with interesting sites and quick access to Interstate 80.  Be sure to check out the towns of Adair, Casey, Menlo, Stuart and Dexter between mile markers 76 and 100.  Just follow the painted white poles and discover what auto tourists from 1910 proclaimed as the "great white way"!   The White Pole Road
Tweet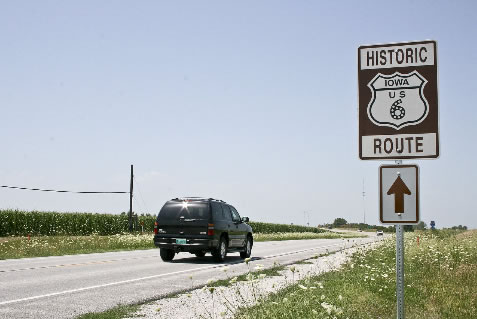 "Two signs went up today (July 18, 2012) on the western outskirts of Davenport, and more are on their way!" – David Darby
The goal of the Iowa Association is to establish Historic U.S. Route 6 signage along the old alignments between Davenport and Council Bluffs. It is also our goal to have a travel guide about the great places to visit and things to do.
However, to accomplish our goals requires your financial support as a member and/or sponsor. This project is part of our economic development program. Feel free to contact me should you have any questions. Iowa@route6tour.com
The Iowa U.S. Route 6 Tourist Association is a Not-for-profit IRS 501 (c) (3) "Public Charity" dedicated to the cultural preservation and economic development of inner cities, small towns and rural communities located along Iowa's Historic U.S. 6. The Iowa Association is a State Division of the National U.S. Route 6 Tourist Association.
Tweet
City of Walcott – Farmer's Market Thursdays, from 5:00-7:00 PM