California

U.S. Route 6 Tourist Association
A Division of the National U.S. Route 6 Tourist Association,
a Not-for-profit IRS 501 (c) (3) "Public Charity".
Dedicated to preserving our American Heritage and Economic Development on behalf of inner cities, small towns and rural communities located along all 3,652 miles of the Grand Old Highway.
---
A Special Event
That Special Place!

"A trip down Memory Lane"
Lancaster, California


Katz N' Jammers | Lancaster CA | Facebook
Katz-N Jammers - Google Maps
*****************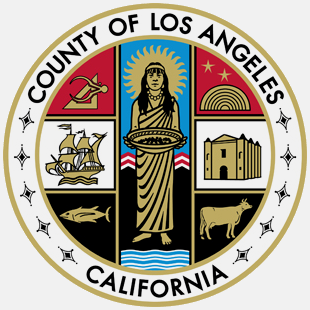 Things to Do
COUNTY OF LOS ANGELES
***********




Antelope Valley Chambers of Commerce - California - Home

********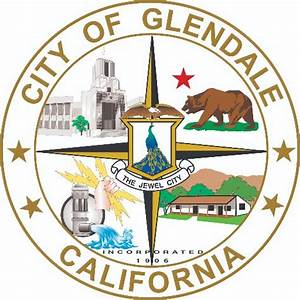 About Us | City of Glendale, CA





Glendale has grown from a small community into a cosmopolitan city -- rich in history, cultural diversity, and limitless lifestyle opportunities.

Economic Development Division | City of Glendale | ChooseGlendale

* * * * * *
Pictures of Historic U.S. Route 6 aka the Sierra Highway.
Pictures by David Erickson of Lancaster, CA.
(Submitted February 2021)

Above > Historic U.S. 6 sign after entering Los Angeles County from Kern County.
Above > 1931 Bridge about a half mile South of the L.A. - Kern County line.
Above > Historic U.S. 6 sign located in Palmdale, CA.

* * * * * *

Owens Valley History

Working to Preserve Our American Heritage!





If you enjoy history and the adventure of exploring the old roads, this is definitely the web site for you!

Owens Valley History

********

Item of Interest: California State Reso. ACR 26

********

CULTURAL PRESERVATION!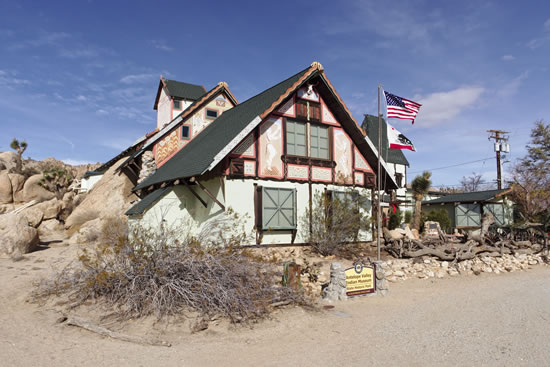 The Antelope Valley Indian Museum is open to the public on Saturdays and Sundays from 11:00 AM to 4:00 PM.
15701 East Avenue M
(between East 150th & 170th streets)
Lancaster, California
Antelope Valley Indian Museum

* * * * * *

Let's Not forget our Critters!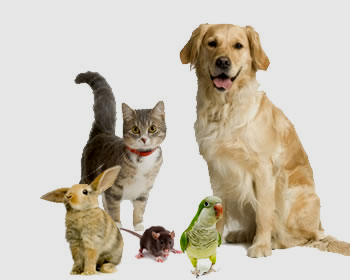 Animal Care and Control
Los Angeles County

NOTE: The County of Los Angeles, CA
is a Founding Member of the U.S. Route 6 Tourist Association.

* * * * * * *

Route U.S. 6: Longest Transcontinental Highway - 1940
Heads Up!!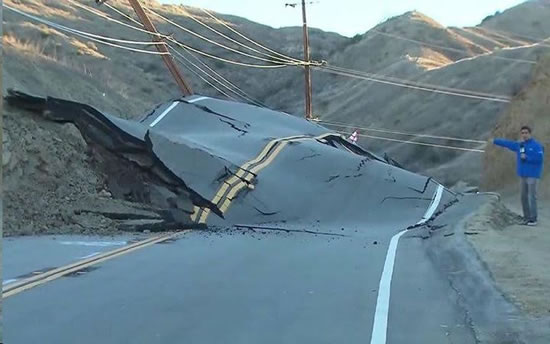 KTLA reporter Mark Mester stands next to Vasquez Canyon Road,
which continued to buckle on Nov. 20, 2015. (Credit: KTLA)
Vasquez Canyon Road is popular with cyclists, and provides additional access for drivers living in northern Santa Clarita areas -- such as Saugus -- and connects Bouquet Canyon Road to the 14 Freeway and Sierra Highway. Traffic was expected to be impacted in the area, including both Bouquet and the Sierra Highway.
The Sierra Highway is a portion of the
Historic U.S. Route 6 alignment.
Landslide Buckles Vasquez Canyon Road; 2-Mile Stretch Closed Indefinitely | KTLA
UPDATE: Vasquez Canyon Road reopens to public

************************
Owens Valley, California History
by Ray DeLea
(The Historic U.S. Route 6 alignment runs the full length of Owens Valley.)
Special Notice!
U.S. Route 6 Charity Run
2015 Activity Updates
Join the Route 6 Team!
Sponsorship Application - pdf

New sponsorships will include the balance of this year and all of 2016

Aprylle standing in front of sign in Bishop, CA


(May 21, 2015)
Only 3,205 miles to go!




Above - Antelope Valley Press 05-16-2015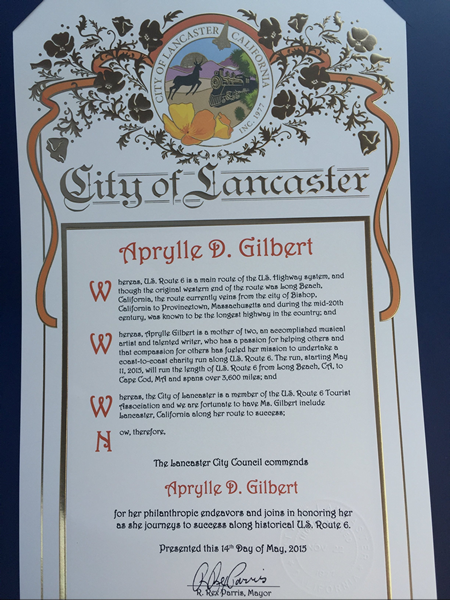 Rosamond, California
"Oasis in the Mojave"




Then and Now
While from these two pictures it may appear our little town has not changed significantly, appearances can be deceiving. The above street scenes depict a portion of the old "main drag", Sierra Highway (part of old US Route 6). Rosamond today is growing primarily east-west along Rosamond Boulevard, which is barely visible as a street intersection in the background of the two photos. The population of "greater Rosamond" in the 1950s was only a few hundred souls; today it is around 18,000.
Rosamond, CA
*******************************
County of Los Angeles
The County of Los Angeles is a founding member of the California U.S. Route 6 Tourist Association. As a member it includes all divisions and departments within.
Below are only a few of many.
Thank you for your on-going support.

Feel free to contact us regarding special events that you would like to have posted on our web site and facebook page.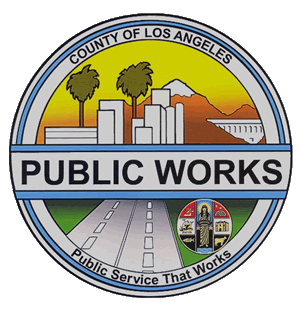 Los Angeles County Department of Public Works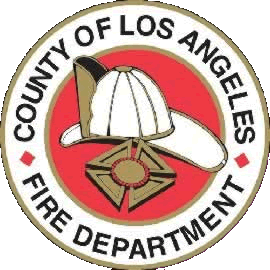 County of Los Angeles Fire Department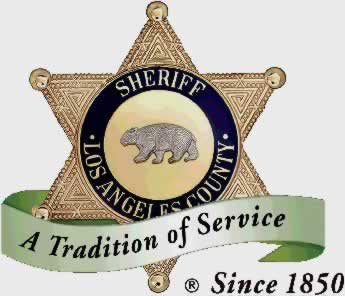 Los Angeles County Sheriff's Dept.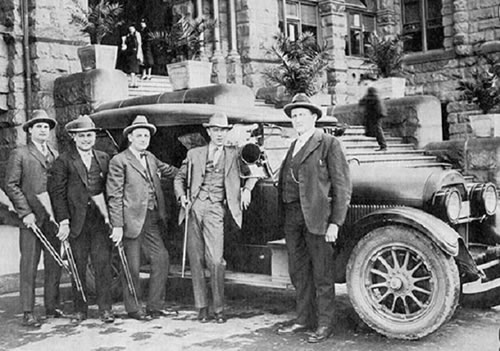 Above: Los Angeles County Sheriff's Dept. 1925

Below: Los Angeles county Sheriff Deputy posing between two Buick Squad Cars - 1932

(Appears that the car on the left is a 1931 Buick Phaeton, and the one on the right is either a 1931 or 1932 Buick Four Door Sedan.)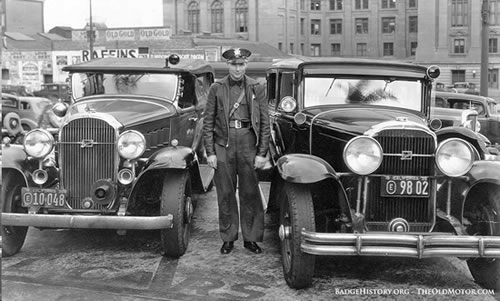 Los Angeles County Sheriff's Museum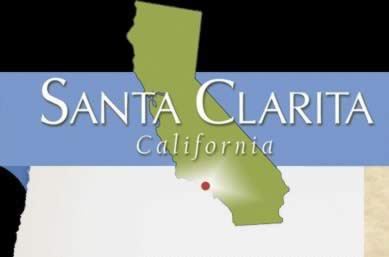 Enjoy Santa Clarita with family and friends!
In Santa Clarita the Historic U.S. 6 alignment is known as the Sierra Highway.
**************************
HONORABLE MENTION
It is the goal of our Association to acknowledge those volunteer organizations that are serving their Route 6 community in a positive way. L.A. Green Grounds in the South-Central Los Angeles area is an excellent example of people helping people. The historic alignment is currently known as Figueroa Street which runs through the heart of South-Central Los Angeles. We are definitely impressed with what your organization is doing.
Meet Ron Finley


********************************
We welcome the County of Los Angeles as an active member of the Route 6 Team.


---



Appears that Tootsie, the official mascot for the California U.S. Route 6 Tourist Association, received a lot of attention during her recent visit to Ridgecrest. Tootsie has become a real celebrity. Our four-legged friend is definitely Route 6 to the core. She plans someday to write children stories; "A Dog's Life Along the 6", The Adventures of Tootsie and Friends.

To learn more about the Association email California@route6tour.com

---

We invite all cities, small towns, rural communities, chambers and businesses located along the Grand Old Highway to join us in the economic development, cultural preservation and educational programs as described in our Mission Statement.

Senior high school and college students play a major role in our development and activities. Most interns receive class credits for the time they spend with us. Parents are also welcome.

The present goal of the California Association is to identify the historic portion of U.S. 6 between Bishop and Long Beach. Currently U.S. 6 signs end in Bishop, historically they ended in Long Beach.

We believe this project will help all the communities located along the 3,652 miles of the Grand Old Highway by preserving the coast-to-coast integrity of the original alignment.

Our programs are serious. Our activities are intended to be fun and family oriented. Looking forward to hearing from you.
HAPPENINGS
---


TheBLVD -
The New Lancaster Boulevard

HAPPENINGS
2023


Special Events | City of Lancaster

Home of the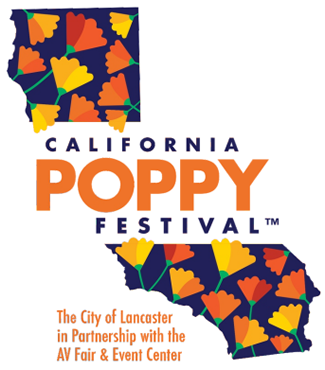 and so much more!
Destination Lancaster Home -
Destination Lancaster
Destination Lancaster Events - Destination Lancaster
********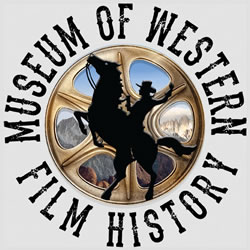 Lone Pine, California
Events | Museum of Western Film History

********



Become a Volunteer

The Volunteer must be at least 18 years of age with a sincere desire in preserving our American Heritage. Interest in American History, government, journalism, photography, business administration and audio-visual productions would be a real plus.

Our programs are serious, and our activities are educational, fun and family oriented.

This is a Volunteer position however, all approved related expenses will be reimbursed. This would include (when applicable) office supplies, lodging, meals, and travel expenses.

For a College Student Intern this would definitely be a learning experience. It would also give you the opportunity to do some serious networking.

NOTE: We've had College Student Interns in other Route 6 States who received class credits for their time. Anyway, something to think about.

Interested?

Should you have any questions or desire additional information contact:

Russell J. Lombard, President / CEO

Email: RussUS6tour@gmail.com

* * * * * *
A HAPPENING

(December 2017)

The City of Lancaster has installed additional HISTORIC Route 6 signs along the original U.S. 6 alignment currently known as the Sierra Highway.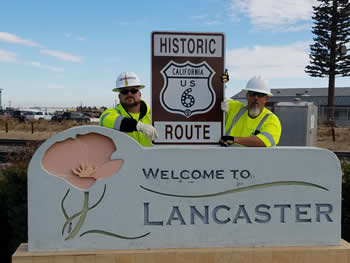 Chris McCaslin and David Good with the Lancaster Department of Public Works.


David Good installing one of the signs along the historic alignment.

Pictures provided by Nicholas Haecker, Engineer Tech.

NOTE: Signs provided by the U.S. Route 6 Tourist Assn.

* * * * * *
In The News
County of Los Angeles, CA
August 2017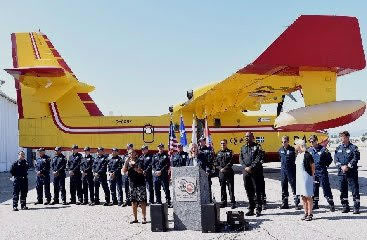 Dear Friends,

This week, Los AngelesCounty received two Canadair Bombardier LC-415s, more widely known as Super Scoopers, on lease from the government of Quebec. These airplanes can fly up to 200 mph and can scoop 1,620 gallons of water in only 12 seconds! Along with an Erickson Skycrane Helitanker we lease, the Super Scoopers have been vital additions to our county's own firefighting arsenal for nearly 25 years and we are thankful to have them again this year. They will certainly help our brave firefighters protect life and property as we approach what could be a very active fire season. And, don't forget to have an emergency plan in place for your family and always heed the warnings to evacuate during emergencies.

Sincerely,

KATHRYN BARGER
Supervisor, Fifth District

Supervisor Kathryn Barger – 5th District Supervisor
NOTE:
The County of Los Angeles is a founding member of the U.S. Route 6 Tourist Association.

********
In order to protect the health and safety of our community and in accordance with guidance from State and local health officials to prevent the spread of COVID-19, Community Services & Parks (CSP) has CANCELLED all in-person events, recreation programs, and classes until further notice. However, CSP is committed to providing safe and educational recreational activities, even in these trying times. Visit GlendaleParksAtHome.org to learn more about parks, activities and programs you can do from home! Challenge yourself with our weekly games, explore our parks and trails, and much more!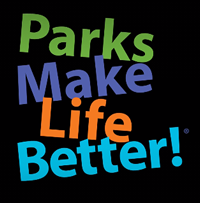 ********

A State Park -Lancaster, California



What's Happening in Carson, CA
City of Carson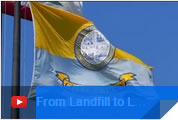 From Landfill to Land of Opportunity - YouTube
*****
In Memory of Fred M. Hann
Co-founder and past Executive Director.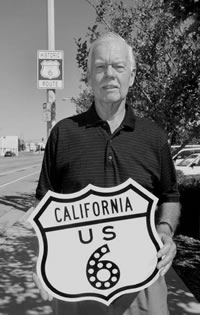 Fred M. Hann
Jan. 29, 1938 - June 10, 2014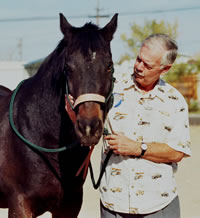 Stay on Route 6: Fred Hahn, Champion of US Route 6, Passed Away Today, June 10
********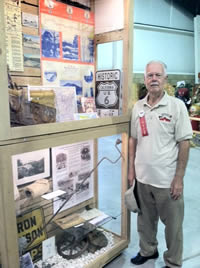 Fred M. Hann at the year-round U.S. Route 6 display located at the Antelope Valley Fairgrounds - Lancaster, CA (Summer 2012)
**************

Not-for-profits

Rosamond, CA