IN THE NEWS
You're now able to get the latest copy of Keeping up with Kathryn, her weekly newsletter with all the latest community updates in the Fifth District and across Los Angeles County. You can expect it under this link every Friday, plus extra content for special occasions.
* * * * * * * *
National Illinois Day is celebrated annually on December 7, and it is a day to commemorate one of the nation's most exquisite states. Did you know that Illinois was the 21st state to join the United States? It is known to be associated with many prominent U.S. politicians in history and is a remarkable Midwest state with many museums, attractions, traditional food, entertainment, and other great local activities. #NationalIllinoisDay
* * * * * * * *
We're deeply grateful for your generous $500 donation to the US Route 6 Tourist Association!

Your support plays a crucial role in our mission to promote tourism and preserve the heritage of Route 6.

Here's how your contribution helps makes a difference:

Supports local businesses by increasing visitor traffic

Preserves the historical and cultural legacy of Route 6

Join us in celebrating this journey by sharing your Route 6 experiences using the hashtag #Route6TouristAssociation.
Remember, every mile you travel, every story you share, helps keep the spirit of Route 6 alive.

Thank you again for your support!

Together, we're keeping the history of Route 6 alive and thriving. #GivingBack #Route6TouristAssociation
* * * * * * * *
Experience the heart and soul of Indiana on Indiana Day. This historic celebration pays homage to the state's crucial role in shaping the United States. Discover the captivating past that contributed to Indiana's growth and influence today. Join us as we commemorate the remarkable events that shaped Indiana into the vibrant state it is today.
Thu Nov. 16th #NationalIndianaDay


* * * * * * * * *
Man arrested in shooting death of Los Angeles County sheriff's deputy


$250K reward to be offered in ambush shooting death of L.A. County Sheriff's deputy

Authorities looking into whether car seen in security video has connection to Los Angeles County Sheriff's Department deputy's death

Community mourns fallen Los Angeles County Sheriff's Department deputy killed in ambush shooting

Los Angeles County sheriff's deputy dies after being shot in his patrol car by an unknown assailant


* * * * * * * * *
Werner Enterprises driver, Tim Dean, has achieved a remarkable milestone in his career by driving 5 million accident-free miles. This outstanding accomplishment showcases Tim's dedication to safety and professionalism on the road.

Tim Dean, who has been driving for Werner Enterprises for 35 years, joins an elite group of drivers who have reached this impressive milestone. He is one of only two drivers in the company's history to achieve this feat.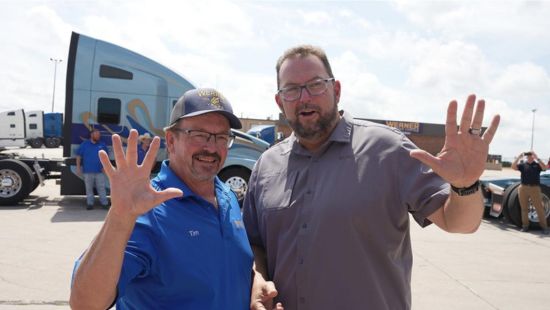 Driving 5 million accident-free miles is an extraordinary accomplishment that requires exceptional skill, attentiveness, and commitment to safety. It is equivalent to driving around the world more than 200 times. Tim's achievement reflects his unwavering focus on maintaining a high standard of safety while delivering goods across the country.

Werner Enterprises, a premier transportation and logistics company, recognizes and honors Tim Dean for his exceptional achievement. His accomplishment highlights the company's commitment to safety and excellence in the industry.




This milestone serves as an inspiration to fellow truck drivers and emphasizes the importance of safe driving practices. Tim Dean's achievement reminds us of the critical role that professional drivers play in ensuring the safety and efficiency of our transportation system.




* * * * * *

Hurricane Hilary Tips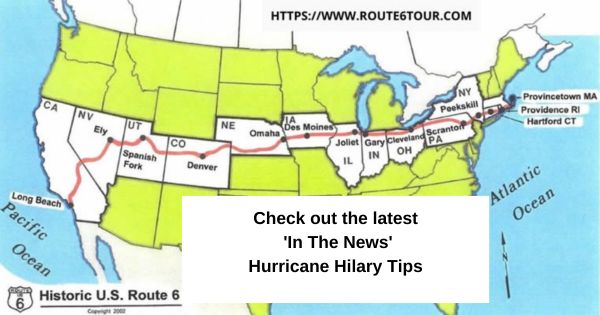 Hurricane Hilary Tips from communities in California

From Los Angeles, https://emergency.lacity.gov/alerts/notifyla  with the title of "NotifiyLA Sign-up"  urging residents to Sign up today  "During a disaster, there are never too many ways to receive a possibly life-saving alert. That's why the City of Los Angeles will use multiple ways to reach you during life-threatening events. The best way to ensure you receive alerts is NotifyLA.

https://www.glendaleca.gov/government/departments/fire-department/emergency-preparedness in the email last evening has Hurricane Hilary Emergency Preparedness Information 


Here are some items to include in a disaster supply kit:


Water: One gallon per person per day for drinking and sanitation
Food: Non-perishable food that can sustain each person for one day, such as canned meals, fruits, and energy bars
Radio: Battery-powered or hand-crank radio, and a NOAA Weather Radio with tone alert
Flashlight: With extra batteries
First aid kit: With manual
Whistle: To signal for help
Dust mask: To help filter contaminated air
Plastic sheeting and duct tape: For a shelter-in-place
Books, games, and puzzles: For children
Fire extinguisher: For earthquakes
Medications: For you or your family members
Important family documents: To include in the kit
You can also consider adding these items:
Water filter and/or water purification supplies
Disinfectant wipes
Toiletry supplies
Crescent and pipe wrenches to turn off gas and water supplies
Source: Generative AI, is experimental. Info quality may vary.
* * * * * * * *
Dried Lake Slowly Returns In California – Jolt of Joyful
Owens Lake
Nature's Restoration of Owens Lake! Here is a little history that is currently taking place along Historic U.S. Route 6 in Owens Valley, just south of Lone Pine, California. NOTE: On the Google Map you see Highway 395 which is also the original U.S. 6 alignment.)

Dried Lake Slowly Returns In California – Jolt of Joyful

Owens Lake - Google Maps

* * * * * *
Museum Of Western Film History May 10, 2023

Museum of Western Film History –
Located in Lone Pine, CA

Museum of Western Film History - Google Maps

The Museum of Western Film History honors the men and women of the silver screen who interpret the lives of the American Cowboy; the legendary iconic movie and TV heroes and heroines of America's 19th and 20th centuries. In addition, the museum collects and shares more contemporary movie making in the regional area of Inyo County, such as sci-fi genres and other cinematic references to the local landscape.

The area includes: Alabama Hills National Scenic Area | Bureau of Land Management
A top correspondent for one of Germany's largest newspaper writes article featuring Lone Pine, the Museum of Western Film History and John Wayne's "Lost 1936 film"- The Oregon Trail.

In late 2022, Dr Christiane Heil, who writes for the Frankfurter Allgemeine Zeitung F.A.Z. (www.faz.net) covering California, Hollywood and Lifestyle features contacted the Museum, and was put in touch with Executive Director, Bob Sigman. Dr. Heil has written about the Academy Museum in L.A. extensively over the last years and wanted to write an article about films about the American West, and their impact on American culture. Sigman arranged for Dr. Heil to tour the museum and participated with her in a couple Zoom interviews. He also provided the writer with access to the museum library archives.

FAZ, is one of Germany's most famous daily newspapers and one of the world's largest correspondent networks and the highest international circulation ( 148 countries) of all German quality newspapers worldwide with a daily circulation of approximately 400,000. The Newspaper, like the New York Times has a flagship Magazine publication, printed quarterly. The article on Lone Pine was in the March 2023 issue.

An English translation of the article can be read HERE.
* * * * * *
Construction under way on latest U.S. Highway 6 improvements | The Business Times
click the image below for full size PDF
******

Press Release

City of Long Beach, CA

June 4, 2021

City of Long Beach Regains Control of the Queen Mary for First Time in Over 40 Years
(A major destination for many U.S. Route 6 Travelers.)
---
From: mayor@longbeach.gov
To: us6news@aol.com
Sent: 6/4/2021 7:26:39 PM Pacific Standard Time
Subject: Long Beach Regains Control of the Queen Mary for First Time in Over 40 Years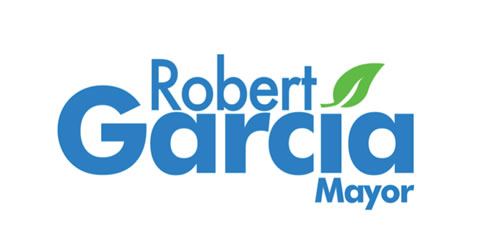 Dear Richard --

For the first time in over 40 years, Long Beach has regained full control of the Queen Mary. It's a huge step forward and an incredible opportunity to focus on preservation. The current lessee has surrendered their lease and the city now owns the ship and controls its future. Our top priority will be the historic preservation of this Long Beach icon and we are incredibly grateful for this opportunity.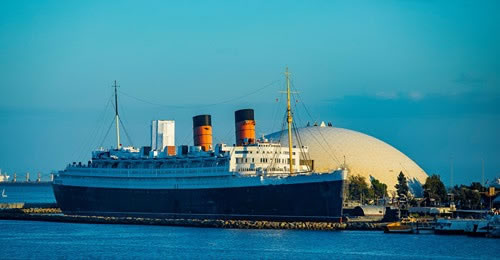 This coming Tuesday, June 8, the City Council will consider the immediate authorization of infrastructure funds to begin testing and design work for the most critical repairs recommended in recent inspections, including bulkhead repairs, lifeboat removal, and the installation of an emergency generator, temporary bilge pumps, and water intrusion warning systems.

The Queen Mary has been a Long Beach landmark on our shoreline since it first arrived in 1967, and has greeted over 50 million visitors from around the world. I know how much our city cares about our Queen and we are committed to doing all we can to ensure her preservation.

You can read more about the recent actions here.

Thank you,

Mayor Robert Garcia
-=-=-



Robert Garcia - Mayor of Long Beach · 411 W Ocean Blvd 11th Floor, Long Beach, CA 90802, United States
This email was sent to us6news@aol.com
UPDATE: https://twitter.com/LongBeachMayor/status/1650939618366459904

**********

Andover Villagee, Ohio

It's not a Roundabout, It's a lot more!
(Why you should consider moving to Andover, Ohio)

* * * * *
Promoting U.S. Route 6 in Washington State

June 2018

This month Russ and Mary Lombard are touring Washington State promoting the Grand Old Highway. Many people overlook the fact that the U.S. Route 6 Tourist Association is a national organization and that nearly half its SPONOSORS don't even live in a Route 6 State. SPONOSORS also include individuals and car/travel clubs in Western and Eastern Europe, South Africa, Australia and New Zealand.

Above > Russ Lombard, President / CEO of the National - U.S. Route 6 Tourist Association and his wife Mary at the cruise and car show; Bremerton National Airport - Bremerton, WA.

1956 Cadillac Coup deVille
(June 6, 2018)



Cruise and Car Show - Bremerton National Airport - Bremerton, WA.
The above two pictures were taken by
Jess Young / Canalside Photography




Stan and Jess Young

********
From the Atlantic to the Pacific Ocean, U.S. Route 6 crosses more than 3,000 miles of American soil and has carved out a place in history as one of the country's most famous roads. Route 6 carves a trail through American history

Like to become a sponsor of the U.S. Route 6 Tourist Association? Visit our sponsorship page for more information. Help us make Historic U.S. Route 6 a registered scenic byway and destination highway.