MASSACHUSETTS
U.S. Route 6 Tourist Association
(A Not-for-profit IRS 501 (c) (3) "Public Charity")
HAPPENINGS!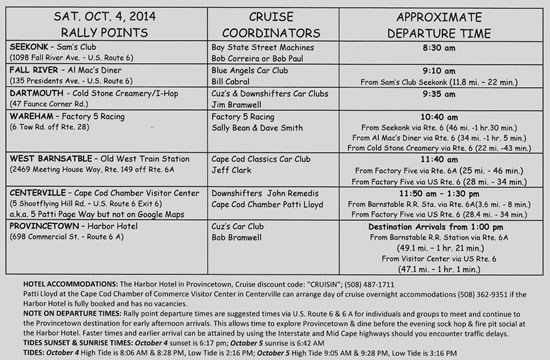 Annual Scallop Festival
Sept. 19, 20 and 21, 2014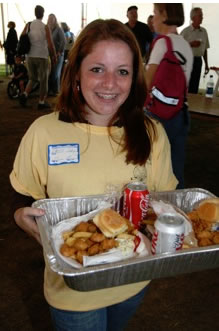 ******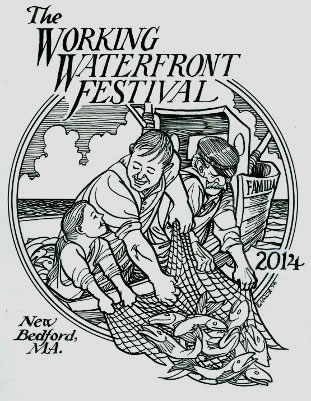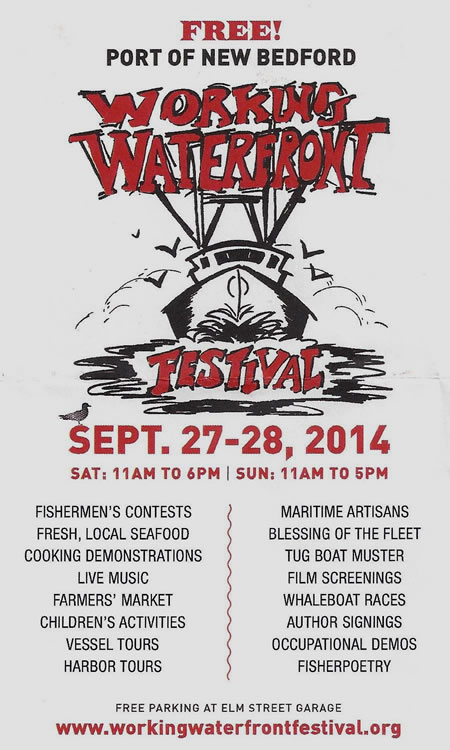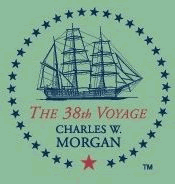 Looks like there will be a great opportunity to catch the ship sailing through the canal to the Mass Maritime Academy from July 23-24 and for some great U.S. Route 6 picture taking of the ship passing under the Sagamore Bridge.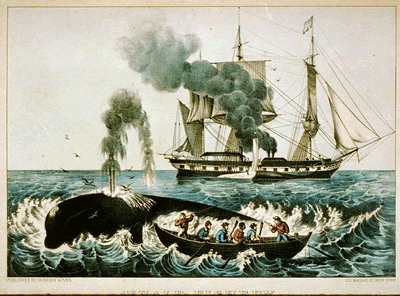 CapeCast is presently featuring a short video about the Cape Cod Hedge found on the Bourne Rotary,
a U.S. 6 and State 28 highway roundabout.
THE HERRING ARE RUNNING!!!
THE HERRING ARE RUNNING!!!
The spawning season for herring is in full gear as many waterways spanned by US Route 6 (6A) here in Massachusetts are supporting a number of very active herring runs.
This is one of our ancient natural traditions so long an attraction to curious folk in these parts. Herring and the blooming of daffodils coexist during this southern New England rite of spring.
Never a dull moment along Massachusetts US Route 6 (6A) as trees buds display their pastel hues during this year's bud-break season. Don Doucette (April 2014)

Herring Run Program - Association to Preserve Cape Cod
BELOW
Meet Ray Bombardier, President of the Bay State Corvairs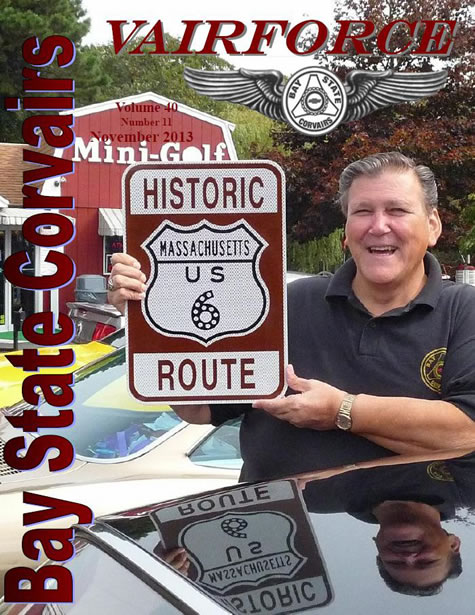 (November 2013)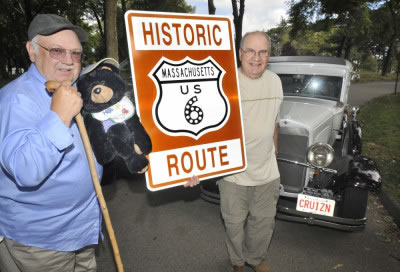 Picture - The Sun Chronicle - Oct. 2013

Don Doucette, Executive Director of the Massachusetts U.S. Route 6 Tourist Association and John Buchanan who is with the Mass Cruisers Auto Club. Also, meet "Wellfleet" the bear, the official mascot of the MA Tourist Association.

Getting his kicks on Route 6 - The Sun Chronicle : Local News
ROUTE 6 HAPPENINGS!
Cruise at Al Mac's Diner is every Thursday from
5 PM til 9 PM (closing) - May through September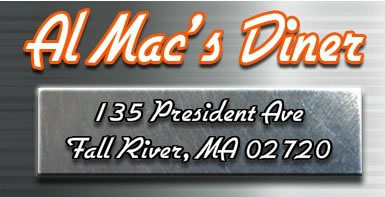 (Listed on the National Register of Historic Places.)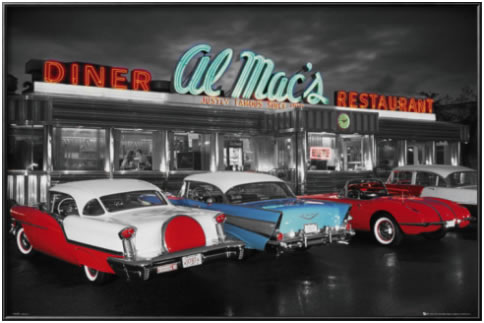 Items of interest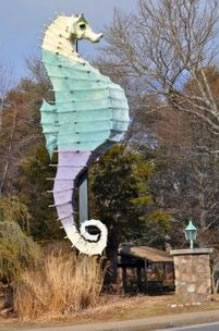 Meet Salty the Seahorse
(February 2013)
*************************************
Could this be Wellfleet the Bear?
***********************
Welcome, New Member!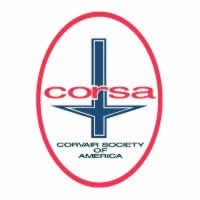 How about giving one of our large Massachusetts Historic Route 6 signs.
For a $150.00 donation which will be used to help support our student internship programs you will receive an official 2 ft. X 3 ft. highway sign as shown below.
These are beautiful signs with the diamond reflective surface.
For a $50.00 donation you can receive one of the smaller street signs.
(below held by Don Doucette)
(Donation includes insurance and shipping within the U.S.A.)
Tax deductible as permitted by law.
Questions? Email: Massachusetts@route6tour.com

The sign in the above picture is located on Cape Cod outside of the Town of Provincetown, Massachusetts.

Tourism Office of Provincetown, MA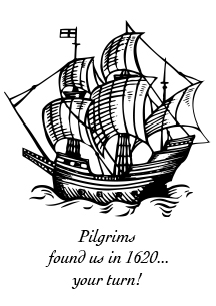 Welcome to the Provincetown Chamber of Commerce!!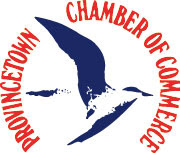 Cape Abilities Farm - Dennis, MA
Cape Abilities Farm Fall Harvest - YouTube
---
Meet Don Doucette our Executive Director of the Massachusetts U.S. Route 6 Tourist Association, a state division of the National Association.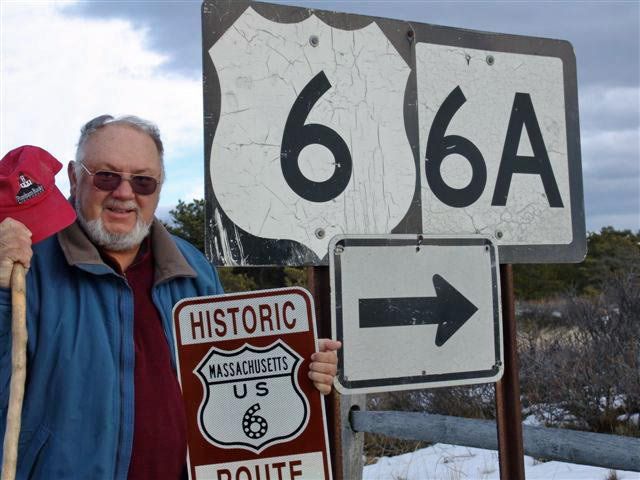 As Executive Director, Don Doucette brings his lifelong energies and interests to the fore. Don has explored New England through the avocation of day tripping for many years. Recently, Don along with wife Nancy, have visited all 351 incorporated municipalities represented within the Bay State. Don has seen the many moods of his native Commonwealth from various angles and it is no wonder that when Don was enlightened recently with the existence of the U.S. Route 6 Tourist Association that Don found a new opportunity for local exploration and inspiration.
For Don, any section of Massachusetts U.S. Route 6 is only a day trip away. And so, he and Nancy are presently exploring and getting to know better their own Massachusetts U.S. Route 6. As responsible neighbors, Don and Nancy are realizing that Massachusetts U.S. 6 is
"
in their backyard
"
and as a result, Don invites you all over for a visit. He wishes to share the many resources of Massachusetts U.S. Route 6 with those who are so inclined. Don hopes for a local organized core group – a Massachusetts Division of the National U.S. Route 6 Tourist Association. Please get involved through your memberships and bring your energies, talents and experiences to the total U.S. Route 6 preservation movement – old U.S. Route 6, the Grand Army of the Republic Highway. It
'
s worth preserving and worth promoting as a valuable National cultural and economic resource.
MISSION

The U.S. Route 6 Tourist Association is a Not-for-profit IRS 501 (c) (3) "Public Charity" Corporation dedicated to the economic development and cultural preservation of inner cities, small towns and rural communities located along all 3,652 miles of the Grand Old Highway.
NOTE: We are currently all non-paid volunteers, either retired or keeping our day jobs. Some of our student interns have worked their way up to the position of Executive Director. The Association covers all expenses related directly to Association activities.