Networking businesses, organizations, and communities is what solidified my interest in the U.S. Route 6 Tourist Association. My husband Brad and I have two businesses which are located in the heart of historic downtown Gretna just a block from where Highway 6 makes a 90% turn on its main street.
The Nebraska U.S. Route 6 tourist Association was formed in 2003 to help Route 6 communities re-discover their heritage and also to draw vacation travelers to the many small and large businesses and sites to visit along the historic highway.
Gretna has the distinction of having old Highway 6 come right through our downtown area. Since our current Highway 6 no longer follows this route, we wanted to draw people and business to our Historic Downtown area by posting signs identifying the original alignment (See Sign Picture Below)
Having lived in the area for nearly 30 years, it excites me to learn more of the history of what makes Gretna have the theme "Gretna, a Great Life". Gretna has been labeled as the fastest growing community in Sarpy County and the Gretna Downtown Association is finding new ways to attract the public to the charm in our historic downtown.
Just this past year, we are excited to announce the addition of several new businesses that have opened their doors in the Historic downtown area. These include a florist & gift shop, homespun weaving shop, a new bakery and bistro, and a new Children's Library. There are many established businesses in the downtown area that would love to tell you more of their history and why they love it here.
The World famous Vala's pumpkin patch is nearby and every fall hosts thousands of visitors, young and old alike. They even have a "kid/adult ride that you can take on Highway 6 in their pedal cars.
Marcia J. Kuiper at Vala's – Gretna, NE
I would like to invite all the Route 6 communities (cities, small towns and rural communities) together with businesses from Omaha to the Colorado state line to join together with the common goal of Economic Development and the Preservation of our American Heritage along the Grand Old Highway.
Time to join together and exchange ideas. Interested?
Feel free to ask questions.
Email: Nebraska@route6tour.com
**************************

Malerie Yolen-Cohen, Travel Writer and Member walking with
Roger Bratt, Webmaster for the Ashland Historical Society.
(Picture by Suzi Nelson, Editor & Mgr. of the Ashland Gazette - June 13, 2011)
Malerie's book about her Route 6 adventures will be available this Spring.
Learn about great places to visit, eat and stay when traveling the 6.
"NEBRASKA"
YESTERDAY, TODAY, TOMORROW AND BEYOND
Economic Development and Cultural Preservation
"Route 6 was a critical transportation and communications link in the development of Nebraska and neighboring states. I hope to preserve the memory of that contribution and look forward to working with the citizens of Nebraska to make the Cornhusker portion of Route 6 the central hub of the Association and the extended Route 6 community."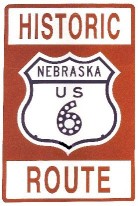 A major challenge for the Nebraska Association is to create economic growth in the inner cities, small towns and rural communities.

High school and college students are encouraged to join the Association's internship program. There are no Sponsorship dues for full-time students or active military personnel.

To learn more about the Nebraska Association and how you can become a member contact us at Nebraska@route6tour.com
Gretna is the first City in Nebraska to establish Historic U.S. 6 Route
signs along the old alignment. 2011 Thank You!!
---
---
Here is a picture of David Kunes the young man who is bicycling the "6" from California
to Cape Cod, Massachusetts. Behind him, left to right, are Liz L. Hofmann our Vice Chair - Educational
Programs, Ashley J. Thompson - Executive Director of Program Development and
Jerry R. Johnson our Executive Director for the State of Nebraska.
(In front of the Museum - July 29, 2007 Sutton, NE - Picture by Rita Johnson)
INTERESTING!
From the below picture it appears that Ethanol has been around in Nebraska since 1933.

Picture from the archives of the Nebraska State Historical Society.
A HAPPENING!


Picture - Ashland Gazette Sept. 2010

In The News



Lincoln, Nebraska crash leaves 2 dead, 19 taken to hospital
(NBC NEWS - U.S. News - May 30, 2022)

Nebraska home to halfway point on historic U.S. 6 (McCook Daily Gazette - Jan. 20, 2014)

Historic Route 6 program Sunday at Horse Creek Inn - McCook, NE (McCook Daily Gazette - Jan. 17, 2014)

Promoting Highway 6 will benefit Ashland - Wahoo-Ashland-Waverly.com: Local
(the Ashland Gazette - Oct. 2013)

U.S. Route 6 Tourist Association officials visit Chase County
(The Wauneta Breeze - Oct. 2013)

Officials from U.S. Route 6 Tourist Association visit Chase County
(The Imperial Republican - Oct. 2013)

U.S. 6, New life for old lighthouse
(Journal Star - Sept. 2013)

Ashland Historical Society - Ready For Visitors At New Office
(The Ashland Gazette - August 29, 2012)

Investors plan to restore Linoma Lighthouse
(Ashland Gazette - Sept. 2010)

****************************************