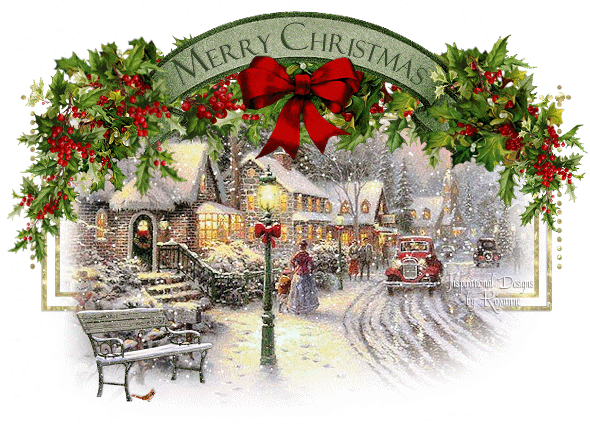 Good News for the Holidays!

(December 2014)
The word is out that a majority of residents plan to do most of their holiday shopping locally.
That's good news as it will make a difference to local economies along the Grand Old Highway. And we hope to see it repeated every year.

"Shop local" is no mere commercial slogan as it reminds us how important we are to each other. Money we spend in our home towns stays there. It pays local wages, puts food on local tables, pays local rents and mortgages and is passed on in the form of donations to Not-for-profit "Public Charities" that make up our local safety net. It generates sales tax revenue, which supports public services that benefit you.

Do your holiday shopping elsewhere and your money stays elsewhere.

Shopping local makes sense in other ways. First, you know who you're buying from and often you'll purchase an item that is made locally.

Second, many local items are unique. Locally produced art, books and clothing reflect the wealth of creativity in Route 6 communities. If you are looking for unique, one-of-a-kind items, local communities offers more than its share of businesses. Consider a gift certificate to a local gallery, store, or dinner at a local restaurant.

Historic U.S. Route 6 (The oldest and longest of the old roads) itself is a world-class destination known for its diversity and natural beauty along 3,652 miles. Donate in someone's name to the Route 6 Tourist Association a "Public Charity" or to local causes such as a donation in someone's name to a food bank, humanitarian organization, youth program, or to another cause that meets local needs.

And, of course, shopping in your local community comes with all the holiday cheer and lights and fun that accompany the season.

So, skip the freeways and fill-ups. There is a lot to enjoy — and share — in shopping locally. (And skip shopping out of the area online. While convenient, it doesn't help support local businesses, unless the businesses you are shopping online are from your home town.)

I want to wish you all the best this Christmas and Hanukkah season.

Take care and God Bless you all!
Russell J. Lombard, President and CEO
Working to save our American Heritage through Cultural Preservation.
What's New!
Welcome Roger C. Bratt - Director of
Program Development with the National U.S. Route 6 Tourist Association.


Roger loves history and is the Webmaster for the Ashland Historical Society in Nebraska. He will be working with and coordinating programs and activities between the current state divisions. He will also be working on establishing new state divisions of the National Association. Roger would be your contact person if you are interested in a state leadership role with our Association.

Email: USRoute6NPD@gmail.com
ALSO
Meet Kim Koyle who has recently been appointed as our
Director of Economic Development (Cultural Preservation).
Kim is a talented graphic artist with interest in Audio-Visual productions.
Kim has a passion for preserving our American Heritage. Her goal is to assist communities in making their dreams into reality.

Her current project is Eureka, Utah.

Here is an example of some of her before and after graphic art.

Eureka, Utah | Facebook

To learn more you can contact Kim at; Utah@route6tour.com
Kim - Roundup time at the Ranch!

***********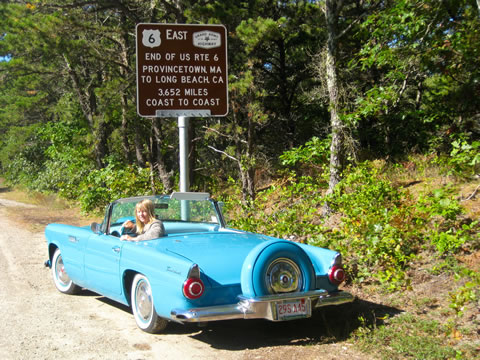 Meet Nancy Bloom in her 1956 Thunderbird - Nancy and her husband John will took part in the Historic Route 6 Cruise on the weekend of October 6-7th 2012. Soon we'll have a 2013 Historic Route 6 Cruise picture.

For information about the 2013 Cruise visit;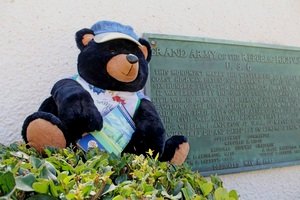 Meet Wellfleet, the Mascot of the
Wellfleet is holding a 1959 Chevron Western States map as he tries to pose at the historical west termination point of U.S. Route 6 in Long Beach, California.
Join the adventure of exploring the old roads!
John Buchanan departed yesterday August 19, 2013 on U.S. 20 from Boston's Kenmore Square to travel across the U.S. to Newport, OR. Then, south via the Pacific Coast Highway to Long Beach, CA and then, east on U.S. Route 6 to Provincetown, MA.
*********
Follow the Signs!
(Iowa City, Iowa - Summer 2013)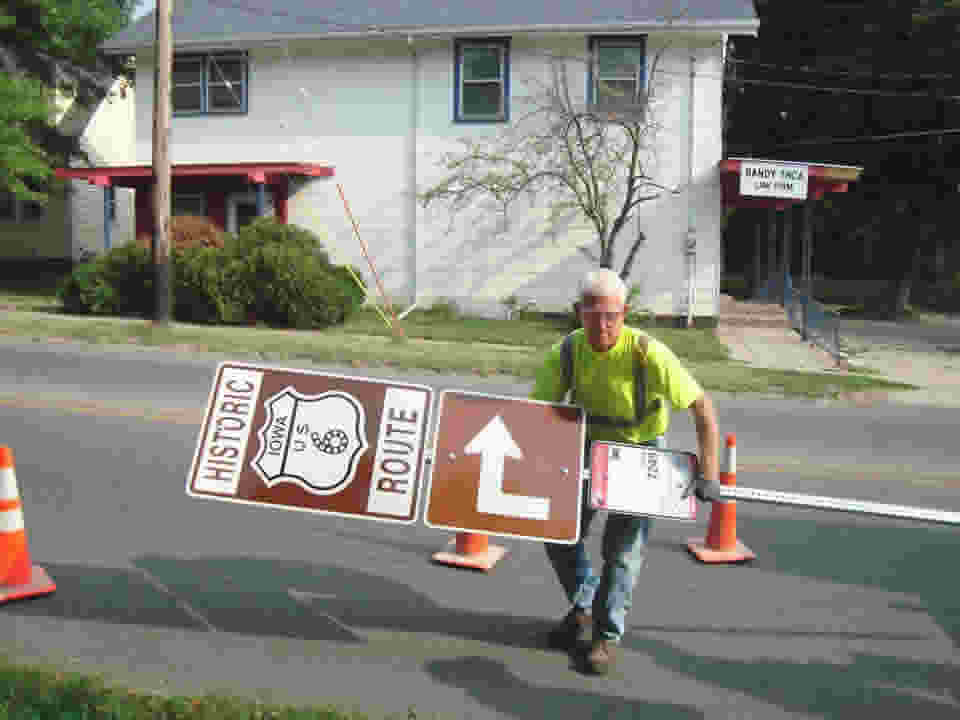 River to River: Iowa's Forgotten Highway 6
Group wants to mark historical Route 6 through Johnson County, Iowa
Rex Brandsatter, Program Coordinator
(April 22, 2013)
UTAH - GOOD NEWS!
A special "Thank You" to Malerie Yolen-Cohen for the following video:
ACTIVITY UPDATE
Radio Interview with David W. Darby, Executive Director of the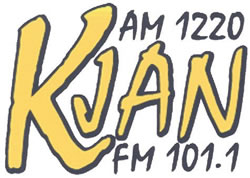 KJAN Radio - Atlantic, Iowa
David Darby-Backyard and Beyond 01-08-2013 KJAN | Radio Atlantic, IA – AM 1220

Picture of the Month
January 2014


Picture by David W. Darby
December - 2013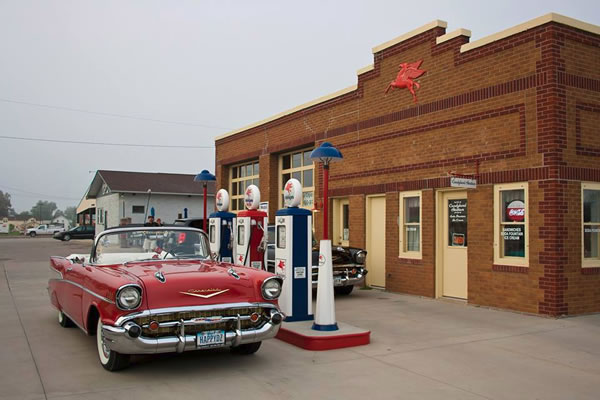 Doug and Roberta See have their 1957 Chevys parked out front of Candyland in preparation for the American Detours photo shoot.
Grinnell, Iowa - picture by David Darby - October 2013
Candyland Station - Grinnell, IA - Restaurant | Facebook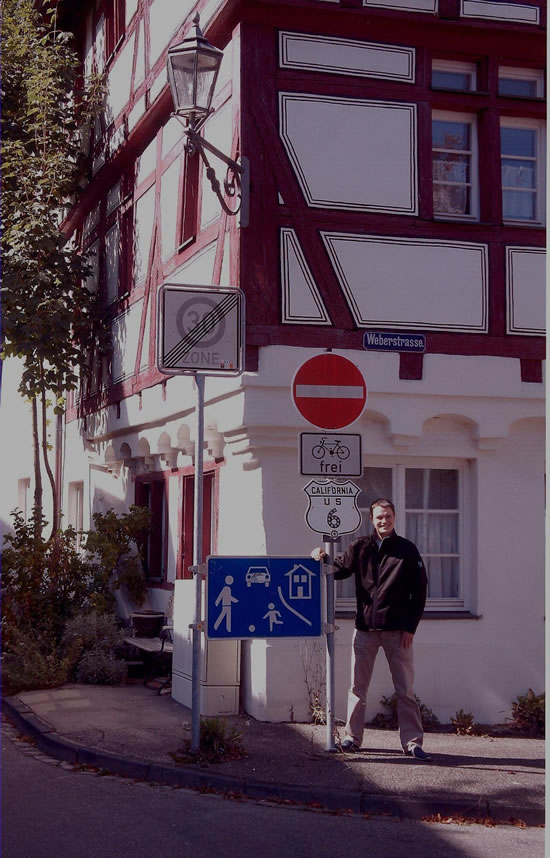 Picture by Martin Grahl - Sept. 2013
Meet Martin Grahl from Memmingen, Germany, standing by a California U.S. Route 6 sign. Martin plans to travel the Grand Old Highway from Long Beach, CA to Provincetown, MA.
******************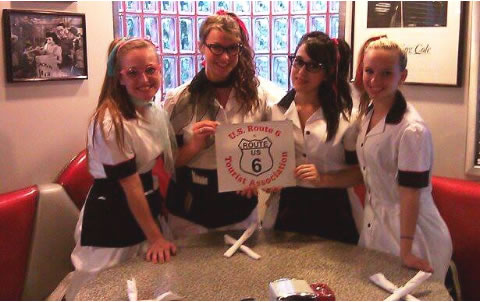 Meet (Left to Right) Bailey Phares, Andi Bagley,
Karla Pina and Samantha Perscell.
Picture by Paul Kuhlman, Member - Summer of 2013
Item of Interest: The Pleasant Hill Diner may not be located in an Historic Route 6 town, but it is definitely a place to visit if you love the 1950s. It is located about two miles south of the historic Route 6 alignment in Pleasant Hill, Iowa.
Note: Many of our members don't even live in a Route 6 state, but simply enjoy the adventure of exploring the old roads.
****************************
Before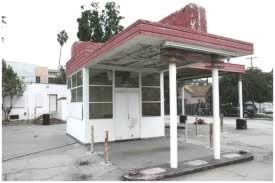 and
After
City of Glendale, CA - Adams Square Gas Station Park
March 2013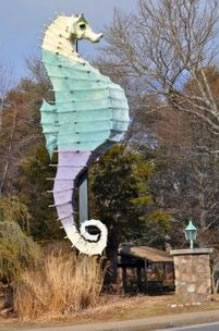 February 2013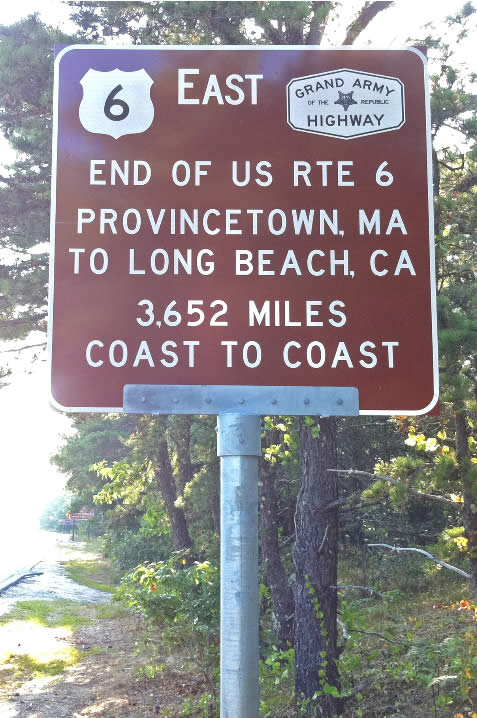 Sign - East End in Provincetown, Massachusetts
Now, what we need is a "Picture of the Month" of a similar sign located at the West end in Long Beach, California. This would be a definite plus for tourism. Hundreds of people each year stop at the above sign for a photo-op before starting their cross-county adventure on America's oldest and longest contiguous highway.
Pearsonville is a small Route 6 community of 17 people located in the upper Mojave Desert of California. The 30 Ft. tall Lady is aka the Uniroyal Gal is just one of those unique roadside attractions that take you down Memory Lane. She overlooks the Historic U.S. 6 alignment currently called Sterling Road.
(Thank you Lisa at Subway for the conformation!)

Pearsonville is also know as the "Hubcap Capital of the World".

More movies have been filmed on or along U.S. 6 than any other highway in America. The above was filmed along what is now known as the Sierra Highway just north of the City of Santa Clarita, California. However, the City of Santa Clarita did not exist at the time. The area in 1936 was known as Saugus - Newhall.